MAX2000 MUD AGITATORS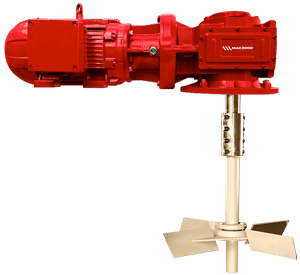 The MAX2000® Agitator provides rugged reliability along with the flexibility to meet your specific needs. Design features include a rugged cast iron gearbox housing helical bevel gearing which runs more smoothly than standard worm gears for cooler, more efficient operation and longer life. The unit's unique lower bearing configuration allows maintenance from to top of the tank, eliminating the need for in-tank inspections. Lower bearing seals are arranged to maintain a grease pocket supplemented by four rings that ensure the gears are continually bathed in uncontaminated lubricant. Our unique shaft coupler is the strongest, most reliable in the industry. Available in vertical and horizontal configurations with a choice of canted or hydrofoil impellers in carbon or stainless steel.
FEATURES
The MAX2000® Agitator features a rugged cast iron gearbox that houses helical bevel gearing. The gear sets are precisely ground to prevent all but the slightest amount of backlash in the gear sets. This feature promotes longer life by eliminating the high impact forces generated when the unit is energized at start-up. Each helical bevel gear stage is 98% efficient. A typical worm gear set is only 85% efficient, since it loses most of its efficiency through the generation of heat.
Internal gears and bearings are lubricated with mineral oil. When the ambient temperature drops below 23ºF or rises above 140ºF, a synthetic lubricant should be substituted. A unique feature of the MAX2000® Agitator is the lower bearing, which can be maintained from the top of the tank. This feature eliminates the need for in-tank inspections of the lower bearing, and also provides a barrier of grease that can be expunged out the lower seal. The lower seals are arranged to accommodate the grease pocket and make for a four-tier layer of protection for the gearing. The end result means the lower bearing stays in contact with good, uncontaminated lubricant at all times. All four of these levels must be breached prior to loss of oil in the gearbox.