Material Handling Equipment
Welcome to our range of Material Handling Equipment designed for efficiency and safety. This category includes three essential products that cater to various material handling needs: the MAX2000 Mud Agitators, Screw Conveyors, and High Shear Hoppers. Discover their features, benefits, and how they can benefit your operations.
MAX2000 MUD AGITATORS
Overview
The MAX2000® Agitator is a reliable choice for all your mud agitation needs. It's built for longevity, efficiency, and tailored adaptability. Whether you're looking for a vertical or horizontal design, carbon or stainless-steel impellers, we've got you covered.
Features
High Efficiency

: The gear sets are made to minimize backlash, which boosts the unit's life. The helical bevel gear stage boasts a 98% efficiency.

Adaptable Lubrication

: Internal gears and bearings use mineral oil. However, for extreme temperatures, a synthetic lubricant is recommended.

Easy Maintenance

: A standout feature is the lower bearing that can be maintained from the tank's top, removing the need for in-tank inspections.

Protection

: Four layers of protection keep the lower bearing constantly in touch with uncontaminated lubricant.
SCREW CONVEYORS
Overview
For a simple and economical way to handle semi-solid bulk materials like drill cuttings, the PSI Conveyor System is your best bet. Crafted from durable components, it can be customized to suit your specific handling needs.
Enhanced Safety Options
Grates on top for added safety

A remote switch to halt operations quickly

Attention-grabbing strobe light and alarm horn

A side-mounted emergency pull cable
Features
Drive Section

 houses the gearbox, motor, and other essential components.

Midsection

: This couples to the drive section and has the least parts, making it streamlined.

Tail Section

: The system's terminal end contains many components similar to the midsection but has specific components like a trough end flange and waste pack seal.
HIGH SHEAR HOPPERS
Overview
PSI Shear Mixers are the highlight of our High Shear Hoppers. They efficiently introduce additives into materials, saving you on additive costs and ensuring top-notch mixing.
Features
High-speed 6″ Mixing Eductor with a durable Urethane Nozzle & Diffuser

Pre-wetter line for powders

A spacious 24″ conical hopper made of 304 Stainless Steel

4″ suction vacuum gauge for monitoring

Quick disconnect through Groove-type connections

Operates at pressures between 40-50 psi
Whether in the drilling industry or any other sector requiring efficient material handling, our products promise robust performance and safety. Contact Process Solutions International today to discuss your requirements!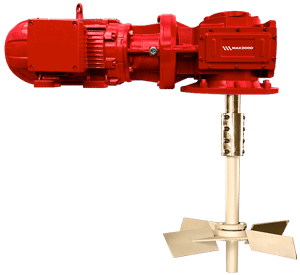 The MAX2000® Agitator offers rugged reliability and design flexibility, featuring efficient helical bevel gearing and a unique lower bearing for easy maintenance. Available in various configurations, it boasts the industry's strongest shaft coupler and offers a choice of carbon or stainless steel impellers.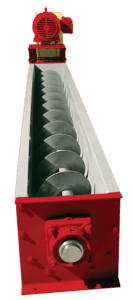 Screw conveyors are an age-old, cost-effective method for transporting semi-solid materials like drill cuttings. The PSI conveyor system uses stock components customizable to specific needs, featuring rugged motors, heavy-duty troughs, and various options like speed control and safety features.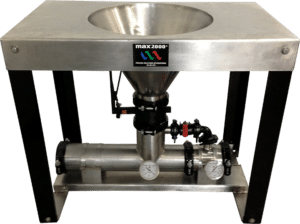 The shear hopper efficiently diffuses additives into materials using high velocity and turbulence, requiring fewer polymers and reducing bentonite usage by up to 50%. The PSI shear mixer acts as both a radial premixer, preventing clumping, and a mixing eductor, ensuring vigorous mixing and robust shearing.